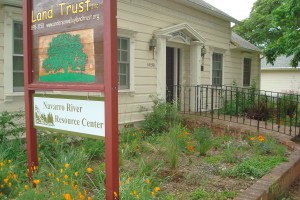 The Navarro River Resource Center facilitates restoring, protecting and sustaining the natural resources of the  Navarro watershed by working with community members on a voluntary basis through education, demonstration, and technical information based on the best available science and management practices.
Our office is located at 14150 Highway 128, Boonville . We welcome visitors, office hours are not regular due to time scheduled in the field, so please call to set up an appointment.
The Navarro River Resource Center receives funding through a combination of local community donations and broader organizational support for staff time and project development through competitive grants written and acquired under the umbrella of the Mendocino County Resource Conservation District.
Our Mailing address is:
PO Box 364, Boonville, CA 95415
Phone: (707) 895-3230